Newly appointed Dragon Steven Bartlett from the BBC's Dragons' Den was no match for Barking Bags owner Debbie Greaves as he sought to sniff out his millennial design flaws to their product. "Steven commented they aren't very stylish, but he gave us a 10/10 for utility! Well, I was over the moon with that as its not designed for fashion. It's designed by dog walkers for dog walking. The main concept of the product is to offer a durable, practical, fit for purpose dog walking bag," said Debbie.
Debbie and her husband Rob are the creators of Barking Bags, a range of specialist bespoke dog walking bags. Recently they took the product on Dragons' Den seeking a £35,000 investment for a 25% share of the business, where it received some great responses, "my favourite concept is the mesh pocket to store used poo bags," mentioned Deborah Meaden.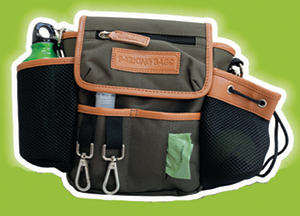 Harked as the universal Swiss army knife of dog bags, the concept has only scratched the surface of the products capabilities. After the 90-minute gruelling process, Barking Bags won the heart of Sara Davies, who extended an accepted investment offer of £35,000 for 25% of the business.
"We were approached back in 2020 just before COVID-19, at Crufts, and asked about going on the show. The timing wasn't right, so we didn't give any more thought to it. Throughout the pandemic business was hard as our bags are handmade and manufactured in India and as the factories were shut, we had a huge delivery dilemma. However, we struggled through and were then contacted again about the show. Before going on the show we had to make sure we were thoroughly prepared. Our accounts, payment platforms, previous employment all had to be accounted for and watertight. Everything we acclaimed, we had to back up with evidence. We were over the moon to receive investment, however, the one piece of advice I would pass on is to do your homework!" said Debbie.
Within 24 hours of the show airing, Barking Bags almost sold out of all stock, and the company had made the equivalent number of sales in 21 days than it had in one year. "Thanks to Sara our systems are better, our website has improved, and our overall business concept is really starting to flourish. We now have two branches of the business; wholesale and retail, which has the potential to be mass manufactured globally in China, and our hand-made ethically sourced range from our manufacturers in India. There is also potential for our product to be marketed via teleshopping as Sara was keen to put my enthusiasm for the product to good use," explained Debbie.
Barking Bags has taken the dog walkers market by storm but is still grounded in its core principles; to stay loyal to its manufacturers in India, and to treat all customers with the respect they deserve. After a ruff spell throughout COVID-19, anything is now pawsible for Barking Bags.
For more information, see below.
T 01908 104977