Community Update is delighted to announce the recipient of our Commitment to Excellence Award as Fernsby Hall Tapestries.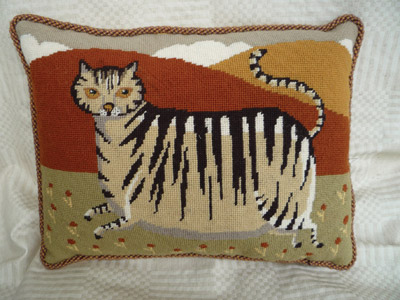 Established in 2011 by Diana Fernsby, Fernsby Hall is based in the lovely village of Furneux Pelam, Hertfordshire. Fernsby Hall specialise in tapestry kits based on the artwork of the life-long friend of Diana, artist Catriona Hall. Catriona's art, tasteful and truly unique, transposes excellently in to the tapestry form, the two forms complementing each other very well indeed.
Though the business itself was established in 2011, making it a relative youngster, Diana has a vast wealth of experience and knowledge when it comes to all things tapestry. I had the pleasure of speaking to Diana, who told me all about where her love of tapestry came from.
"I was taught tapestry stitching at a young age by my nanny, so I have been involved in this craft all my life. It was my dream to recreate the paintings of Catriona Hall into tapestry form. The complimentary reviews I receive from customers and visitors are always greatly appreciated and a credit to the hard work and creativity I put into each kit. "
There are some things in life you can't buy; that being experience, and passion. These are two elements of Diana's work which become self-evident when you spend a little time talking to her and looking at her work.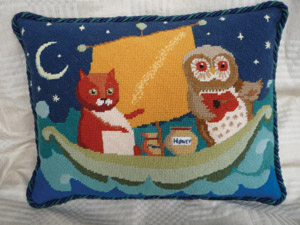 There are thirty kits available, with each kit including a photograph of the original tapestry along with easy to follow instructions, the Appleton tapestry wool, a needle, a printed canvas and a helpline (if you get a bit stuck!). The background colours of these kits can be changed to suit a customer's colour scheme; Diana just requests a colour sample.
A true testament to the wonderful customer service Diana offers and the passion she has for her products; if you're a newcomer to the craft and need a few pointers, Diana will happily sit down with you and show you the ropes.
Fernsby Hall further offer a 'Making Up Service' to turn finished tapestries into cushions, adding another dimension to the tapestry you've put your blood, sweat and tears into!
These beautiful tapestry kits are vivid in colour and style, ensuring that the finished products are brought to life and do justice to the artwork of Catriona. Diana is always creating new designs through her close work with Catriona ensuring that she always offers fresh designs and brings a traditional craft into a modernised style.
For information on Catriona Hall and a look at her
larger scale commissions, please contact:
T +44 (0)1279 777795
kits@fernsbyhall.com
www.fernsbyhall.com