Community Update is pleased to present Castletown D-day Centre with our Best of Britain Award. The centre provides guests with an authentic recreation of Portland's working dockyard during the Second World War, and opened last year to overwhelming success.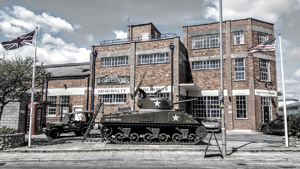 In 1944, the dockyard was used by American troops who were bound for the beaches of Normandy. The dock was Britain's largest departure point for US troops during the Second World War, housing more than 500,000 military personnel. During their visit, guests can expect to find a collection of genuine wartime vehicles, including a replica Spitfire, Bofors 40mm gun and a restored Sherman tank. The centre also houses a selection of WW2 artefacts and weapons, including real WW2 military uniforms and de-commissioned rifles.
The centre is unique in its 'hands on' approach to history, encouraging guests to touch, wear and interact with authentic wartime weaponry and gear. Throughout the centre, signs prompt visitors to try out vintage motorbikes, jeeps and guns, something most museums prohibit. Such a unique experience stimulates guest's imaginations, allowing them to visualise what it would have been like to prepare for that fateful day.
The centre offers guests a unique chance to remember the events of the 6th June, and to learn about the important role that the port played in the allied invasion of Northern France. The centre is supervised by enthusiastic members of staff who are appropriately dressed in wartime uniforms, and who are always on hand to answer any question put to them or provide extra context and detail.
The centre is located in Castletown's admiralty buildings on the Isle of Portland. If you would like to get in touch with the centre, feel free to call them on the number listed below. Alternatively, if you would like any more information on the centre, why not visit their website.
For more information, please contact Castletown D-Day Centre on:
T +44 (0)7850 243675
www.castletownddaycentre.com