At Community Update, we take pride in showcasing the very best services provided by people, companies and charities that provide a wealth of benefits for their community. As such, in this issue we are proud to announce that we have selected Bluebell Wedding Car as the recipient of our Commitment to Excellence Award.
Offering the finest chauffeur and stunning service in and around the Forest of Dean is a recently restored much loved blue long wheelbase Silver Spur very spacious classic Rolls Royce. The beautiful blue Rolls Royce is available for all your special occasions from weddings, proms, birthday parties, or even just to create a special memory.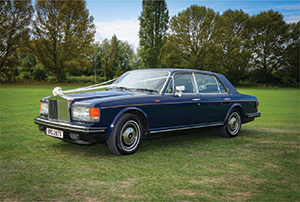 Bluebell Wedding Car was founded in 2019 by Carl who is well known for providing a luxurious, stylish, and first-class chauffeur service in his prestige blue Rolls Royce. Knowing you never get a second chance to make a first impression, Bluebell Wedding Car specialises in weddings and adding a personal touch to your dream day. The wedding package includes champagne, chocolates, and custom car decorations such as ribbons or flowers to match the colour or theme of the wedding.
Prices are available from £150+ for the day for local services, prices will vary if asked to travel further afield.
For all your wedding transport needs, Bluebell Wedding Car offers the finest wedding transport service to fulfil every bride's dream. Delivering an unforgettable experience, Carl ensures each happy couple a wedding car experience that is both unique and memorable. Offering a personal and meaningful touch that caters to the bride and grooms wishes, Bluebell Wedding Car really does set the scene for a truly magical wedding.
For more information, see below.
T 01594 530835
prospect_cottage@tiscali.co.uk