In this issue of Community Update, we have selected Castle View in Windsor for their outstanding contribution to the community and awarding them with our Commitment to Excellence Award.
Castle View is made up of 64 independent living apartments, for people over the age of 55. Established by CEO Robin Hughes in the picturesque town of Windsor, Castle View was developed from Robin's ideology of providing state-of-the-art quality homes for those over 55, with added emphasis on providing living spaces that his own mother would approve of. Speaking to Robin Hughes, he stated that, "I established the company about 10 years ago, with one eye on the site in Windsor as I was local and was interested in building something that my Mum would want to live in." Notably, Robin Hughes' mother was the first resident to move in – receiving a big thumbs up from mum!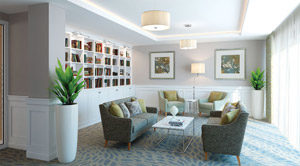 Maintaining residents' independence is of the utmost importance, adhering to their ethos of providing a fresh approach to retirement living with peace of mind. In terms of facilities, Castle View provides modern spacious living apartments which enhance the individual's quality of life "Castle View has been built with keen attention to detail to enable independent living for as long as possible, by gently supporting and avoiding accidents. Multiple small touches such as higher toilets, raised washing machines, light switches by the bed and stylish bespoke furniture in all the communal areas. We also have a unique communal Sky Lounge offering previously unseen views of Windsor and Windsor Castle, surrounded by a beautiful terrace with outdoor seating for taking in sunshine and sunsets." Robin Hughes. The company also offers a range of apartment sizes including one, two and three bedroomed apartments.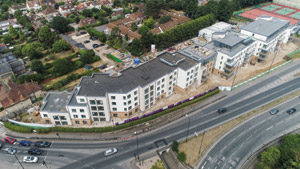 Through their thoughtfully arranged facilities, warm and friendly environment and caring team, Castle View provides a unique approach to retirement living. Elaborating on their aims, Robin Hughes expanded, "We take a keen interest in our residents and their families and to provide an environment that is safe, friendly and meets their needs."
With testimonials from families and residents being resoundingly positive, Castle View in Windsor has been successfully up and running for four months. Offering not only peace of mind in terms of security through their 24 hour reception and CCTV in communal areas, but also producing a community within itself, the establishment offers residents a social experience through their array of communal areas including two bars, restaurant, lounge and Sky Lounge.
T 01753 378127
info@castleviewwindsor.co.uk
www.castleviewwindsor.co.uk