Community Update is proud to announce Artrium Studio as the winner of our Commitment to Excellence Award. The studio was founded in Hartlepool in 2003 to act as a safe space within which those struggling with their mental health could express and nurture themselves creatively. The idea was born out of the lack of available and accessible services then present that catered for those in need of support. Despite funding cuts the company has persisted, and excelled.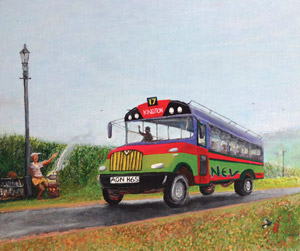 Despite being based in Hartlepool, visitors come from far and wide to enjoy the products of the artistic minds that make up Artrium, including illustrators from the Dandy and Beano comics, who produced illustrations exclusively for Artrium, through which they also sold work to the local community.
The studio itself serves a therapeutic and judgement free sanctuary, wherein service users and volunteers can be free of the strains and stresses of everyday life. Attendees can share with and find comfort in one and other, as well as partake in nationwide trips, and a celebratory end of year event. The studio also provides opportunities for people to engage in accredited training, as well as various other work and education prospects. Through education, participants have the opportunity to share the skills they have gained with both new and existing staff members and clientele. And these aren't opportunities that are limited to a set demographic, evening classes are available to the wider public.
The local consensus on the studio is one of gleaming positivity. Attendees have stated that they 'absolutely love coming to Artrium' and that it has gifted people with 'a sense of belonging.' The studio is evidently dedicated to ensuring that the wellbeing of its volunteers and artists improves during and after attending its classes and events, and seems to have succeeded in creating its own welcoming community.
As well as the studio, Artrium owns its own gallery. Originally opened as an exhibition space in which their work could be showcased, its success has led to Artrium artists selling their work, and some artists being scouted by galleries in Paris, New York, and even New Zealand. Artrium's positivity and consistent dedication to its members and staff have benefited Hartlepool's community incontrovertibly. Artrium and organisations similar to it are an example of how social enterprise can be used to profit a community, not simply those at the helm of that business.
T 01429 867775
artriumstudio@btconnect.com
www.theartrium.org.uk