In this issue of Community Update, we have selected Lady Jayne's Tearoom as the recipient of our Commitment to Excellence Award for its ongoing services for its local community.
Lady Jayne's Tearoom is a traditional British tearoom serving up some of the best afternoon tea delights including cakes, light lunches, homemade soups and potted beef and so much more! Lady Jayne's Tearoom first started welcoming visitors in October 2015 and was established by a mother and daughter duo, Karen and Heather. "To open a Tearoom had been a long held 'pipe-dream' for both my daughter Heather and I." Karen stated.
From its location in Stapleford, Lady Jaynes Tearoom provides visitors with a 'trip back in time' and boasts china cups, tea pots, embroidered table cloths and to add to the ambiance, music reminiscent of times past, resonates in the background.
Often a preferred favorite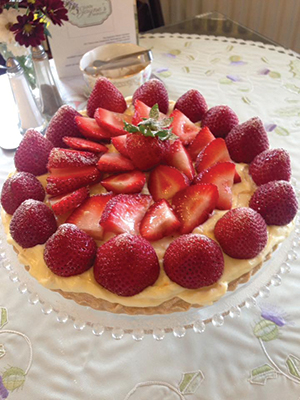 among friends and family meeting up for tea, cake and a natter, the atmosphere at Lady Jayne's Tearoom is warm, welcoming and vibrant. The Tearoom is also a favorable venue to host a full vintage afternoon tea experience for special events including birthdays, hen parties and baby showers.
To name just a few of the delectable treats on offer for visitors at the Tearoom, Karen told us that, "Our menu is based around 'comfort food' although we DON'T do chips! We do afternoon teas, traditional cream teas, breakfasts and of course cakes! We do light lunches such as oven baked jacket potatoes, toasted sandwiches, quiche, pies & pasty, sausage rolls, and omelettes; which are all served with a side salad and homemade coleslaw. We also do Knickerbocker Glory, Banana Split and Peach Melba."
Lady Jayne's Tearoom also caters for all dietary requirements. "We try to offer clients with special dietary requirements a selection of menu choices – rather than just "The One Option". As our food is made to order we can easily adapt to suit the needs of the customer." Karen said.
With a strong commitment to support its community, Lady Jayne's Tearoom supports its local surrounding businesses. "Wherever possible our food is made here on the premises, but where items are bought in, we try our utmost to make sure it is sourced within a 20-mile radius of the tearoom." Karen expanded, "We also like to promote and purchase from small family run businesses. Even the Handmade Occasion Cards are made by one of our customers and are in support of 'Maggie's Trust' at Nottingham City Hospital. The Charities we support are 'Maggies Trust', Nottingham. 'Treetops Hospice', Risley, and 'Help The Heroes'."
Created from a passion shared between mother and daughter and with a lot of encouragement and support from family, Lady Jayne's Tearoom is a great place to experience, relax and immerse yourself in its traditional vintage setting. And where did the idea for the name come from? Karen said, "Both of our middle names are 'Jayne', and growing up, my Dad was always saying 'Oi – Lady Jayne – over here now!'
For any more information, see below details.
T 07989 630 069