Community Update is proud to announce that Palma Palmer has received our Commitment to Excellence Award. Based in Surrey, Palma Palmer is a Life Coach, Mentor and Public Speaker, helping people reach their potential in their work and personal lives. She is dedicated to helping people to make positive and permanent changes, increasing their self-awareness so that they can become the best version of themselves.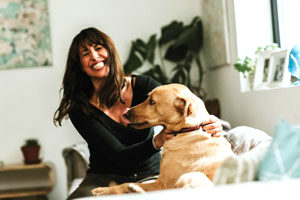 We got the chance to speak to Palma, and her passion and positivity throughout our conversation was infectious. It was hard not to feel motivated. "It's clear to me that people are struggling to find happiness," she explained. "If you are at one with yourself, you can create new things, new relationships. I'm focused on helping ambitious people fulfil their capabilities, unlocking their confidence, creativity and dreams.
"We are all the same, really. We all have the same fears and so we need to rewire our brains to realise we can do the things we've always dreamed of."
Palma believes that we should lead a more balanced life, "Not enough people are having fun. While we should take care of ourselves, we need to be naughty now and then!" As long as we go back to taking care of ourselves, focusing on the pillars of nutrition, sleep, and exercise, then we can continue to feed our body, soul, and mind in the most beneficial ways.
In today's day and age, it's refreshing talking to someone who is so positive about what we can achieve. "I've always felt this way, but it's only recently that I've started sharing and coaching on a larger scale. Five years ago, I started going out speaking about mental health and self-destructive behaviour, having gone through similar experiences myself. This eventually spiralled into forming a business and becoming an established Life Coach. Essentially, I'm a result of my own product; it's important to me to lead by example."
Palma offers her motivational services to a range of customers, helping those in the corporate world as well as going into schools, colleges and universities to inspire younger minds.
As her business continues to grow, she is hoping to do even more public speaking, building a community so she can spread her positivity to as many people as possible. "I'm enjoying the process very much," Palma tells us, "I have a plan, but who knows what will happen. There are a lot of exciting people doing big things, but I feel there needs to be more British females doing the same. I don't want to have regrets for the things I didn't do, and neither should anyone else."
M 07919 947590
palmaesteem@outlook.com
www.palmapalmer.com
https://uk.linkedin.com/in/palma-palmer-569996a7