Community Update is delighted to announce as the winner of its Best of Britain Award, Newark Castle Line.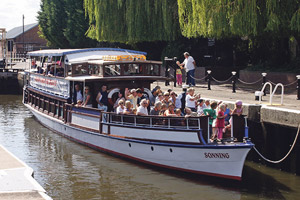 Sit back, relax and float away with Newark Castle Line. What better way to spend a sunny (or inevitably sometimes rainy) afternoon is there than chugging lazily through the serene English landscape. The trips on offer on board the quaintly named Sonning are as diverse as the surroundings the boat floats softly through.
The Sonning caters for weddings, school trips, private parties, and somewhat more intimate poop deck parties, wherein the boats poop deck can be hired for smaller groups. Also joining Newark Castle Line's arsenal of pleasure is the three hour long jazz trips. The jazz trips consist of a gentle cruise to nearby Farndon and back, accompanied (and undoubtedly complemented) by the sounds of a six piece jazz bands; it is a challenge to think of a musical genre more apt than jazz to swim with the Sonning through the slow waters of Nottinghamshire's rivers.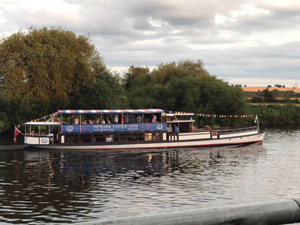 Everything one might require in order to comfortably capitalise on the boat's potential of pleasure can be found on board. Both ladies' and gentlemen's toilets can be found on board, and the Sonning offers a large, open shaded main deck bordered by tram style benches, maximising outdoor sociability. The large bow provides open air seating, for those increasingly less rare sunny English afternoons.
Below deck is the King Edward VII saloon that hosts a fully stocked bar, an essential facility for those wishing to truly enjoy the sunshine. The bar offers beers, wines, spirits, hot drinks, soft drinks, snacks and ice creams. The saloon is as cosy as one would hope it to be, with mahogany wood panels, large windows and comfily cushioned benches and seating areas, and presents itself as a notably desirable alternative to the higher decks for those not so sunny afternoons.
Recently Newark Castle Line has launched a ferry service, wherein the Sonning stops at Fiskerton, offering passengers the opportunity to explore the characterful and charming village and its surroundings, before embarking once again for the return voyage. There is seldom an opportunity to truly enjoy the often overlooked majesty of the rolling English countryside greater than that of which Newark Castle Line and the Sonning present. Be sure to book yourself a trip, and take full advantage of the Sonning, its staff, and the river it calls home.
T 01636 362303
www.rivertrip.co.uk