At Community Update, we pride ourselves on recommending the best hotels and guest houses. This is why we are delighted to present Bush Nook Guest House with our prestigious Best of Britain Award. This has been awarded to Bush Nook for their personable hospitality and beautiful rooms.
The Bush Nook Guest House is situated in the picturesque village of Gilsland in the North East of Cumbria. The guest house is surrounded by stunning English countryside, with magnificent views north of Hadrian's Wall towards the wild open country of the Borders. The Guest House is also just a stone's throw away from the Hadrian's Wall UNESCO World Heritage Site and the Hadrian's Wall National Trial, perfect for day walks from the door or historical site visits and a wander on the Heart of Hadrian's Wall country.
There are many cycle routes for bikers of varying abilities, offering magnificent views of the Roman Wall, including the Hadrian's Wall Cycleway and miles of quiet country roads and forest trails in the Forgotten Lands of North East Cumbria.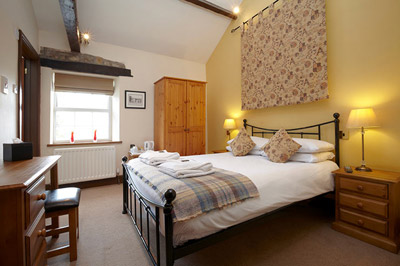 In a recent interview with Bush Nook's owner, Malcolm Redman, we asked Malcom what benefits Bush Nook offer their guests that their competitors do not. "We offer quality home away from home accommodation and fabulous breakfasts with that extra personal touch from ourselves, which creates a wonderful friendly and relaxing atmosphere."
It is important to note that Bush Nook can provide rooms for small or large groups. The guest house's B&B bedrooms offer a mix of single, double or twin occupancy with an accompanying ensuite, free WI-FI, Freeview TV and tea/coffee making facilities. In addition to this, Bush Nook also offers unique self-catering accommodation for up to 23 people, ideal for birthdays, corporate retreats, celebrations and functions. Facilities include: 11 ensuite bedrooms, a dining area suitable for 23 people, a garden room with log fire and panoramic view, 2 outdoor party hot tubs, fully stocked honesty bar and parking facilities.
Guests can also enjoy a range of activities on site or nearby at the Talkin Tarn Country Park, including canoeing, kayaking and raft building. Furthermore, the Guest House are also in partnership with 'Independent Adventure', who can bring a range of activities to any event.
It is clear to see that Bush Nook offer a wonderful stay for groups of any size, so if you would like to get in touch with the guest house, call them on the number below. Alternatively, if you would like any more information on Bush Nook, make sure you check out their website.
For more information please contact us on:
T +44 (0)1697 747194
info@bushnook.co.uk
www.bushnook.co.uk